The Buck Hood Punk is meant to be a survival knife. It can be used for almost any outdoor activity or adventure as it is designed for ruggedness and tough weather conditions. Exactly how tough and rugged it can go, we can assess one portion at a time. This Buck Hood Punk review will discuss Buck Knives, the features of the knife, and online ratings.
---
*Unfortunately, the Hood Punk is not available at most good retailers like BladeHQ or Amazon. You may find it somewhere if you Google the name, but it's getting rare!
Buck Knives
Buck Knives 65 Hood Punk Fixed Blade Survival Knife with Sheath
The 5 ⅝ inch Hood Punk knife is made by Buck Knives, an American brand. Buck Knives was founded by a young blacksmith from Kansas named Hoyt Buck. He sought to make steel that can hold an edge longer using his own unique way of tempering. He made all of his knives by hand and many of them were popular in 1902 and appreciated by soldiers who fought in the Second World War.
Assessing the Buck Hood Punk's Features
The Buck Hood Punk has a 5160 alloy steel blade that is uniquely heat-treated for edge retention. It is said to be corrosion-resistant because of its powder-coated finish. The blade is 5 ⅝ inches in length and very tough. The size is relatively ideal for most outdoor work like slicing and carving.
To be honest, it is a tad short for effective chopping. However, if the blade was any longer or thicker, it would prove difficult to handle.
The 5160 alloy steel blade is much stronger and tougher than carbon steel blades. It is less prone to chipping and has greater edge retention than the latter. On the other hand, 5160 alloy steel is considered stainless steel and is more prone to corrosion. It means that the knife would require extra care. On the bright side, the Buck Hood Punk is coated with a non-corrosive powder finish; the span of its effectiveness though depends on age.
Buck Hood Punk knives have quality handles. The handle is made of black linen Micarta scales integrated with SMS or Shock Mitigation System. It supposedly reduces the shock users get when chopping and prevents excess energy from rebounding back to the user. Since the knife is 7.4 ounces in weight, an energy-saving handle is much appreciated.
The handle does have a finger groove at the end of the blade to provide better gripping. Although the intentions of the manufacturer are good, it does make the knife harder to control because it places the hand a bit far off from the handle's center. It could reduce leverage for a lot of people when it comes to carving, so it might not get used as much.
What is surprising about the handle is that it is removable. It can be fitted with a blade similar to the Hood Punk's size though there is no assurance the combination would be equally effective. Primarily, it's removable so that the blade can be turned into a spade. Buck Knives meant for the Hood Punk to be transformable into a spear. There are many uses for it in the wilderness; it can be for hunting or for defensive/offensive purposes.
Hood Punk's nylon sheath has a storage pouch that is multi-functional and adjustable. One can carry the knife either high or low on the hip. It's a bit heavy, weighing at 13.1 ounces with the knife in it. Together, the knife and sheath do look dashing.
---
User Reviews and Ratings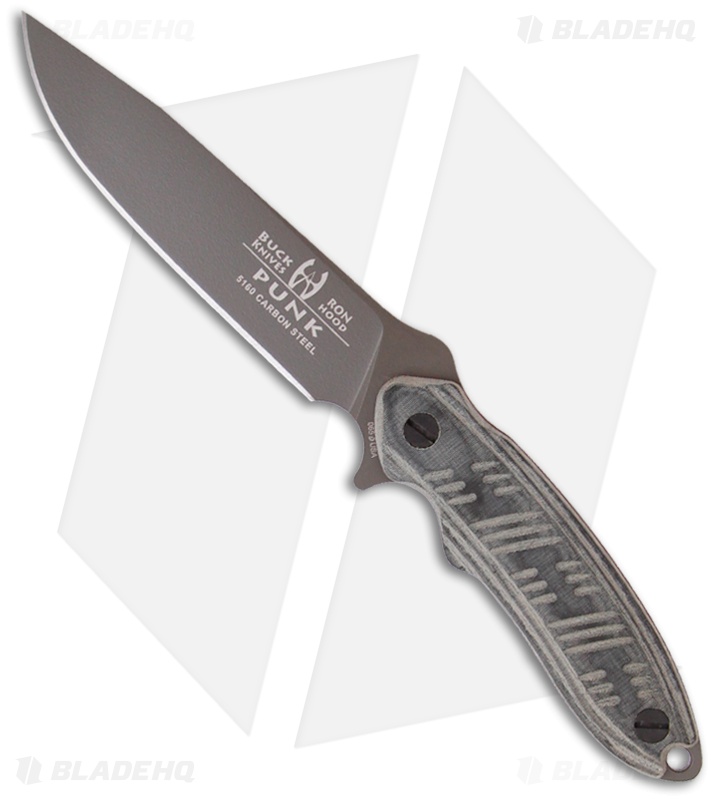 Consumer ratings suggest that the Buck Hood Punk is a must-have for outdoor adventuring. On average, it rates 4.9 out of 5 stars and seems to hit it off with outdoor enthusiasts. In terms of survival, the Hood Punk seems reliable for hunting purposes but might fall short in the carving department. A lot of owners are suggesting that the knife could use some extra length added. At 5 inches, it won't be able to accommodate folks with large hands.
Conclusion
Other than those issues, consumer ratings suggest the Buck Hood Punk is worth its value. In conclusion, the Buck Hood Punk is an above-average survival knife that one would be thankful to have in the wilderness.
---